We are delighted to announce a new scholarship in honor of two of the Melibee hive's mothers: The Jane Gluckmann and Carol Rausch Go Global Scholarship! Our mothers inspired us to see the world, to adore languages, to care about global issues and people who are not our most immediate neighbors as well as those who are, to study abroad, and to be fearless in our pursuits of global citizenship.
This new scholarship is in honor of our mothers – Jane Gluckmann and Carol Rausch – two women who encouraged us, sacrificed for us, loved us, gave more than we can ever describe, and passed way too soon.
As our moms taught us that we are capable and to dream big, we are aiming for an endowed scholarship to honor our mothers and to help fund other young people to go abroad. To do so, we need your support! Read about these two women and if you were inspired by them and/or your own mother or someone else's, scroll to the bottom to make a donation in their honor. Thank you!
To donate as much as you'd like (minimum is $10) to the Jane Gluckmann and Carol Rausch Scholarship, visit the Fund for Education Abroad's Donate page and use the drop down box to specifically donate to honor inspiring moms. You can read more about the scholarship here (scroll down).
Jane Gluckmann, by "son" Rodrigo:
My name is Rodrigo Félix, and I am from Guaymas, México. I'am 47 now, I lived for a short period of time in the US as part of an exchange student program. This is a very little story about that time and my family.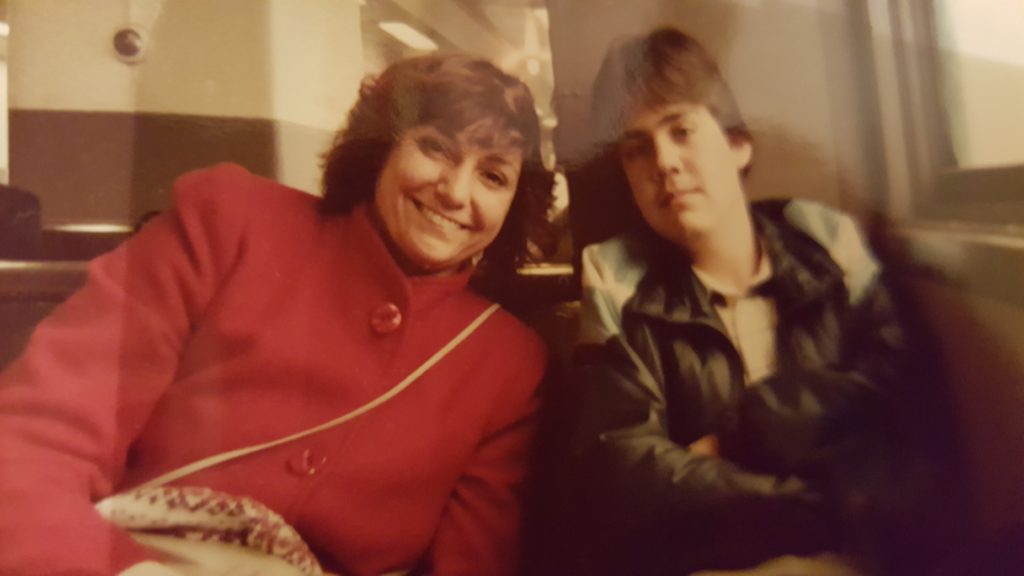 I was raised as an any other Mexican boy, very attached to my family, our values, and my friends. Among many kids my age (14 years back then) that applied to be an exchange student thru the Rotary Club, I was selected to be one of them. I had the greatest of luck to go to Port Jervis, a little town in the state of New York, and better yet to be hosted by the Gluckmann family, what a joy !! Ed & Jane and their two beautiful daughters, Kerry & Missy. It just could not be better. I always felt as another member of the family, never set apart for anything. Ed was my US father, very funny guy, good talker. My sisters: Kerry, the older one, was quiet but happy, always with a smile in her face for me, always dancing and doing her "ballet turns" haha I do remember that very clear . . . Missy, in the other side, was a year younger, my age, she was the party girl, very fun to be around, lots of friends . . . . And then was Jane, my Mother, what a woman. Very energetic, dynamic lady, she took me as the son she never had, she was the closest to me, always hugging me, kissing me, cheering me up when I was down, always buying me my Oreo cookies and hiding them for me in that secret place she and I only knew so no one else would eat them. As part of the exchange student program, I had to move to another house (family) every 3 months, I guess that one of the reasons was not to get to attached to the family, well, In my case, the time came maybe after 7 months or so, it was very difficult, especially for mom and myself. She did the impossible to keep me in her house but those were the rules and I was moved to another house to another family . . . .
The "experiment" did not last long, I was away from home for maybe 3 weeks and then I moved back to the Gluckmanns, back to my family, back to mom. It was a very happy day. I had signs all over the house saying "Welcome Home", what a warm welcome. . . . I remember been part of the soccer team and she would pick me up almost every day after practice in the little old yellow VW bug, God I loved that car, as matter of a fact, I still have one of those but mine is silver. When we had home games, she was always there watching me play and screaming all game and if I did not play or play just a little time of the game, there she was facing the coach and asking why her son was not on the field all of the time, that was Jane, my American mom, now you can understand why I said in the beginning, what a woman. She treated my two sisters and me equally. She was always smiling and full of love. I had the opportunity to go back in time and choose a family to live with while away from home, with no doubt I will go back to the same little town, to that log cabin house, with my Gluckmann family . . . writing these few lines get my eyes in tears for all those fun and great memories with Ed, Kerry, Missy and Mom Jane . . . . . .
Carol Rausch by son, Kyle:
As a young teenager, I remember sifting through the family photo albums seeing a young, blonde boy playing in snow. Growing up in the Sunshine State of Florida, this seemed entirely foreign to me. "That's you in Germany" my mom said. "We had so much fun living in Germany when we were younger."
My dad had been in the Air Force and early on in their marriage, my parents were stationed in Zweibrucken, Germany. All throughout my adolescence, my mom would recount her experiences living in Europe, both herself as a young teenager and then again later on when she and my dad started our family. She would have a big smile on her face as she remembered what was clearly a very happy time in her life. "They just have a greater respect for their history" she told me of Europe. She loved visiting the various castles and cathedrals and learning the unique stories behind each one. I would listen with curiosity and imagine what such a place could actually be like.
Thankfully, during high school, I had my own opportunity to travel abroad. I remember coming home from high school that day excited to tell my mom about the trip to France my high school French teacher was planning. I had been apprehensive that my request to participate on the trip would be met with a swift "no," both because of finances and because this was in 2003, not even two years after the September 11th attacks. However, rather than receiving the blanket"no" that I expected, my mom seemed really interested in the opportunity for me and said we'd look into it together. Thankfully, my parents agreed to let me go and did everything they could to support me financially and personally in order for me to have what was surely one of the most pivotal experiences of my life. My mom believed in the power of travel and knew from her own experiences how much I would learn that I couldn't learn in the classroom. To be sure, she was scared to have her oldest son travel so far away on his own, but as mom's are wont to do, she put aside her own feelings in order for me to grow as a person. It is only all these years later after I no longer have my mother here that I realize just how selfless the love of a mother actually is.
She likely knew at the time that I would develop the same insatiable love for travel that she developed when she traveled in her youth. Coming back from that first trip abroad I declared that I would major in French in college and vowed to study abroad as many times as I could, eventually promising to live abroad.. With each international experience I had, my mom would be simultaneously excited for me and a bit disheartened at the fact that I would be so far away from her. "I know you're an adult now and I've got to let you go off and have these experiences, but you'll always be my baby boy" she had told me on several occasions prior to me leaving the country. "Now go and have a wonderful trip and just promise me you'll send me all your photos and check in once in awhile; I'm living vicariously through you!"
Towards the later years of her life, my mom wasn't able to travel much due to several major knee surgeries she had. That didn't stop her from asking about my journeys and from us planning her return to Europe one day when she healed. Unfortunately, that day never happened.
As I reflect on the incredible opportunities I have been afforded in my young life, the places I have seen, the people I have met, I am incredibly grateful for the selfless love my mom exhibited by allowing me to have these experiences so early on. It could not have been easy for her to let her first-born son go off into a world that seemed rife with troubles. It could not have been easy to sit back and watch her son grow into an independent man that yearned to travel far and often leaving her so far behind. To be sure, she was proud at having raised someone who was curious and desired to learn as much as he could about all the world had to offer, but now that my mom is so far away from me, I see how it couldn't have been easy.
And so, I believe that everything I love about my life now I owe to my mom's selflessness. The fact that I work in a field where I get to help young adults have those same transformative experiences I had, the fact that I have the self-confidence and ambition to continue exploring the world, these things are a direct result of a woman who inspired the sense of wonder and excitement for life in me. She may not be physically present to have that reunion trip in Europe we always talked about in her later years of life, but is my hope that with this memorial scholarship, her inspiration and encouragement will live on.
So to my mom, know that I miss you so much and that I will continue having as many adventures as possible and in each one I will hold you in my heart and share in the wonder that abounds. May this scholarship be but one way that we honor your legacy and all the positive relationships you left on this big, wide world.
To donate to the Jane Gluckmann and Carol Rausch Scholarship, visit the Fund for Education Abroad's Donate page and use the drop down box to specifically donate to honor inspiring moms. You can read more about the scholarship here (scroll down).