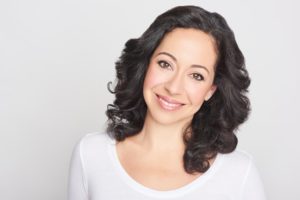 Today's 'Five Questions' series (with our fabulous Melibee speakers)  are answered by the the voice whisperer, Jennifer Hamady. Jennifer is a talented voice coach and psychologist who has traveled abroad extensively, been a lead singer in Cirque de Soleil, and is bi-lingual (English/Spanish). She is also a professional singer and has worked with incredible talent such as Stevie Wonder, Cristina Aguilera,  Def Leppard, and Lee Ann Womack.
1) Was there a defining moment where you decided that you wanted to be a singer/ in the entertainment industry?
I knew from the time I was very young that I wanted to sing.  Apparently, it's all I did as a young child, and from as far back as I can remember, I sang constantly.  For me, there was no thought really as to whether I would pursue music professionally; singing was what I loved to do, a most important part of who I've always been. It was a natural, and unconscious choice.  
2) When you speak to an audience, what are some of your favorite moments?  
My speaking engagements vary… from master classes with singers, to workshops with speakers, to keynotes for executives and business groups.  In all of them, my most cherished moments are those when we move from conceptual and technical work to the personal realm.  Certainly there are practical tools that help us to use our voices more powerfully and persuasively.  But in my work, I've found that the ability and willingness to be open, vulnerable, and present are the most powerful tools there are when it comes to musical and personal communication.  Helping people move into this space- and out of their fears and insecurities- is truly powerful, and wonderfully rewarding.
3) Do you find coaching or performing more gratifying, and why?  
I was lucky to be able to transition naturally from performer to coach in my own time, when I was ready.  I literally woke up one day on a tour I loved, at the age of 35, and said to myself, "you know what? This has been a wonderful ride. I'm ready now to contribute all that I've learned." When that tour ended, that's exactly what I did… focusing on my writing and coaching full time. 
4) If you had to assemble your own all-star singing ensemble, say, like 3 people and yourself, who would you pick to sing/collaborate with?  
That's a fascinating question!  I can certainly tell you who some of my favorite singers are, and there are people with whom I would love to perform. But truly- and this comes from having spent years singing backup with so many phenomenally talented and musically sensitive men and women- I find that it is less about who you are singing with, and more, the ability to blend together, personally and musically. To enter together into a sacred space, and create something magical with your voices and expression. 
5) If you hadn't gotten into singing, what career do you think you may have ended up in?
Many members of my family, as well as friends, encouraged me to go to law school to become a litigator.  They felt my love of people and genuine concern for them, as well as my ability to persuade people and my curiosity and tenacity, would fit perfectly with fighting for the rights of others. 
To learn more about  how Jennifer speaks and coaches others to use voice with confidence and agency, click here.