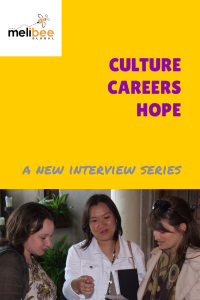 In this edition of our series on finding that perfect career across cultures, we bring Brad Daniels to your world. Brad is the International Collaborations Manager at a university in Iowa as well as a Melibee.  He shares his insights here:
Melibee: You've been a Melibee fan for a while.  How has Melibee Global helped you in your journey to landing your current job?
Brad: I discovered Melibee Global while I was looking to change careers from foreign affairs to international education. Thanks in no small part to Melibee resources, I was able to make the transition successfully, and now I am managing international partnerships at a university in Iowa. While job searching, I participated in MelibeeU webinars on resume writing tips, un/underemployment in international ed, and social media marketing, all of which helped me tailor my search and highlight key transferable skills. I also became an avid reader of the Melibee Global blog, where I learned a lot about international education in general, including some more controversial and subversive perspectives on issues in the field. Perhaps most importantly though, Melibee Global perfectly captured the spirit of why I wanted to switch to international education in the first place. It's such a wonderful community full of smart, thoughtful, and caring people, which totally confirmed for me that I was doing the right thing in changing careers. In fact, I felt so convicted about that that I jumped (swarmed?) at the first opportunity to join the Melibee hive! 🙂
Melibee: What tips would you offer as a 'travel aficionado' in relation to building your resume?
Brad:  Done well, all travel can potentially contribute to one's resume, though I'd say that resume-building should probably not be too high on one's list of reasons for traveling. I'd focus more on the qualities that define someone who loves to travel. Travelers possess natural inquisitiveness, experience innate excitement (as opposed to fear or nervousness) about the unfamiliar, and gravitate towards variety and diversity. These are useful in many jobs, and while you can't necessarily list them on a resume, they can be teased out artfully in interviews and cover letters.
Melibee: In only 7 words, can you explain what the future looks for you in this field?
Brad: As badly as I want to say "So bright, I've got to wear shades" I'm going with: "Promising…if the journey remains the destination."
Melibee: Now that you're a member of the Melibee hive, what's one thing you learned within the hive that you are using in your day to day work?
Brad: While I'm not sure if my interpretation of the rhizomatic process is entirely accurate, I've found the general mindset behind it–focusing on getting the most out of process instead of on just achieving desired outcomes–to be broadly applicable. It helps me stay nimble in my job, which has very few established standard operating procedures, as well in my personal life because it allows for adjusting (and readjusting) priorities in response to the unexpected / things that are out of my control.
Melibee: What song do you think represents your journey within IE?
Brad: Impossible to pick just one! Global baller Bee-Rad would say LA Love by Fergie. Feed me a slice of humble pie though, and it's Tom Petty's Learning to Fly. If I get really reflective, I'd have to say The Longer I Run from Peter Bradley Adams.  Honorable mentions: Queen – Don't Stop Me Now and Avicii – Wake Me Up