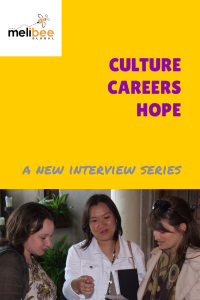 In this edition of our series on finding that perfect career across cultures, we bring the story of Kory Saunders to you! Kory is a Melibee and the Study Abroad Coordinator at Columbus State University.  She shares her experience finding her path to a career in international education here!
Melibee:  Can you describe the journey up to your current position?
Kory:  My journey from when I realized I wanted to work in the study abroad field to when I landed my current position as a Study Abroad Coordinator was four years in the making. While studying abroad at the University of Valencia in Spain I realized that I wanted to work in the field of Study Abroad and International Education but I had no idea how I was going to accomplish it. I started researching and looking for opportunities to apply to. I applied to positions all over the country. Most of which I did not hear anything from. While applying to positions I worked in other industries to keep an income and to gain transferable skills however I was determined to work in study abroad. I continued to give presentations on my own in study abroad, I participated in panel discussions and spoke to students in small groups and individually about studying abroad. I volunteered and worked on committees that allowed me to acquire experience and the skills needed to advise and assist students with academics, gain scholarships, and prepare for their careers. This proved to be invaluable experience for what I do today as a Study Abroad Coordinator.
I also started a blog entitled Komisa's World to share my experiences studying abroad,  language learning, culture, and to share the experiences of others who like me are considered in the minority of those who have study and/or work abroad. I had many informational interviews and did whatever came to mind to gain more experience and knowledge that would push me forward to achieve my goal of working in the field. It was through the informational interviews that I learned about the NAFSA and the NAFSA Conference. I planned for two years to attend and I met that goal last year. It was there that I felt at home and it reaffirmed my goal to work in the international education. NAFSA became a resource for me but it was Melibee Global that was and still is one of my biggest resources. The career workshops and the culture seminars have helped tremendously. I am now more than prepared for my position as a Study Abroad Coordinator and have been enjoying every minute of this new experience.
This definitely was not an easy road but it affirms that one should never give up on their dreams.  A delay is not a denial and with diligence, patience and faith a goal/ dream can be attained.
Melibee: Can you explain in 7 words what the past 5 months have been like for you in your current position?
Kory: Blessed life-changing, stimulating challenging, fun experience.
Melibee: How has your marketing background helped in conveying your love for different cultures? What tips would you offer to anyone who is thinking about entering the IE field with a marketing background?
My marketing background has given me a platform to convey my love of different cultures. It has given me the skill set to share my love of different cultures in a variety of ways.  Whether it was through my blog, social media, the relationships that I have built, the presentations that I have given and the panels that I have been a part of I have used my marketing skills in different capacities to show the importance and fun of learning about other cultures.
For others with a marketing background, know that your marketing background is valuable to this industry. Many of the skills that you gained are transferrable to international education.
Make sure your resume and cover letter are tailored to show the correlation between your marketing experience and the position you are applying for in international education. It may not be obvious to those reviewing your resume. (Melibee Global has great workshops to assist with this)
Use all of the marketing skills that you attained to market yourself "personal branding" in a variety of ways to show how your skills and experience are a good fit for a position in international education.
Participate in webinars, seminars, conferences etc. This will help you to gain knowledge and build a network with others in the industry.
Stay diligent and never give up!!! If I was able to transition from a career in marketing into international education so can you.   🙂
Melibee:  Have you worked in a virtual team before? What's one thing you've learned being in the hive you'd like to share with others?
Kory: This is my first time working in a virtual team such as this. It shows just how small the world can be and how the barriers to engage, share and learn about one another continue to decrease. The hive has such a harmonious energy. The hive is teaching me to create harmony instead of trying to strike a balance with all the new things in my life. I started Melibee Global shortly after I started my new position as a study abroad coordinator. All of the newness has been a welcomed challenge. Rather than striking a balance I am learning to be in harmony and do my best in both of these amazing experiences.
Melibee:  How has your love for languages helped you in exploring this IE field?
Kory:  My love for languages is the reason I stumbled upon the field of International Education. It was because of my pursuit of learning another language that I became interested in other cultures and countries. I took every opportunity I could to study abroad. Each of my study abroad experiences not only allowed me to strengthen my language skills but taught me so much more about myself, other cultures and allowed me to begin to explore the world in which we live. It made such a profound impact on my life that I wanted to help other students to take advantage of the opportunity to study abroad as well.